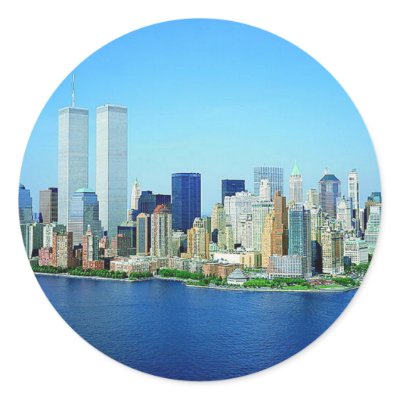 New York City Skyline Stickers
Sort of relieved no iPhone 5 announcements, Im firmly bogged down into a 2 year contract.

So your attitude is "if I can't have it, I don't want anyone to have it."?

Whether it comes out or not, you won't be getting one. So why would it matter either way?
---
in New York City street.
My thoughts exactly. Our school district (ISD 482) just bought 1,465 iPads for its students, and I can see us getting really mad if Apple were to release a new iPad 6 mos. later.

I'm not really sure Apple cares about your school district.
---
New York City Screensaver
What's with everybody thinking this will be too US centric? I'm guessing a possible music download service will be USA only at first, but in all honesty the European and Asian cell phone markets are about 3 years ahead of the US as far as technology goes. Chances are, Apple will make it a GSM technology phone, which is actually quite international!

Even so, the USA is in dire need of a decent cell phone. The fact that the Razr is so popular says it all. The Razr is a terrible phone (along with most other Motorolas for that matter). And the rest of the selection available is pretty sad too!

Personally I'm hoping for a smart phone of some sort, preferably with a full qwerty keyboard. But I'm not holding my breath.
---
New York City Stock photo
mdriftmeyer
Apr 24, 12:13 AM
3200x2000 requires 6,400,000 pixels. At 32 bit per pixel, we're talking 25,600,000 bytes of data. Considering modern framebuffers are double buffered, this requires 51,200,000 bytes of memory to hold. That fits into 48.82 MB of RAM. GPUs have had that much since ... hum... 2004 ? So we're good on framebuffer RAM.

Now, bandwidth. In order to refresh the screen 60 times, we need to push out those 25,600,000 pixels. That's going to require 11718 Mbps of bandwidth. Let's see... Display port 1.1a has 10.8 Gbps so it's a no go (though it could almost do it). If only there was a DP 1.2 spec that had a 21.6 Gbps cap... Oh wait there is. :D

So we're good on RAM and bandwidth. Now, what ATI family introduces DP 1.2 so that we can use this new standard ? Oh right, the Radeon HD 6000 series, AMD's current shipping tech! Now if only Apple would release some kind of support for these GPUs, like they did back in 10.6.7 ;) :

http://appleheadlines.com/2011/03/24/10-6-7-update-brings-native-graphic-acceleration-for-amd-5000-and-6000-series-video-cards/

So let's see if I got all of this right. We're good on RAM (have been for quite a few years). We're good on bandwidth for 60 hz 3200x2000 resolution. We're good on hardware (AMD 6000 series) and we're good on OS X support (with 10.6.7).

What exactly is missing here ? Oh right, a hardware refresh with said hardware included, which is probably a formality seeing all of these news and facts :cool:

Stop with the well-thought out accountability of resources. People would rather wallow in conjecture about the future w/o bothering to research the present.
---
New York City Screensaver
switching to ARM means no more boot camp :mad:
---
#019 New York City, USA.
Looks like Kamino (http://www.deviantart.com/deviation/15249612/)

great. thank you
---
Therefore, the City Beautiful
MorphingDragon
May 6, 06:58 AM
I want them to go AMD across the board.
I'd like that.

AMD is currently a bang for buck chip maker, I doubt you'll see them CPUs in Apple products. Plus until Fusion develops some more the thermal envelope isn't too good.
---
Young New York Runners Visit
So, what is Apple doing with a bunch of 7" touch screens, since Jobs said "7 inch tablets are dead on arrival"?

I also don't recall RIM ever giving a date before April 19th.

LoL, I can just imagine Steve Jobs karate chopping stacks of 7" touch screens in Cupertino.
---
#019 New York City, USA.
What we are gonna see tomorrow:

- iTMS Movie Store;

- new Nanos 6 and 8Gb in anodized metal;

- slightly updated iPod with 80Gb;

- Airport Express Video.

And NOTHING ELSE...don't dare dream about updated MBs or MBPs...these have NOTHING to do with a special event on movies and multimedia...sorry to burst your bubble...SJ told me that already... :rolleyes:
---
stock photo : NEW YORK CITY
SemiAccurate claims (http://semiaccurate.com/2011/05/05/apple-dumps-intel-from-laptop-lines/) to have heard that Apple will be transitioning from Intel processors to ARM processors in the not too distant future.

the site name says it all : semi-accurate :eek:
---
Beautiful Girl In New York
Mobileme is certainly worth more than free. Apple doesn't scrape your emails and other data to target adds at you a la Google.

I could see Apple making some features of Mobileme free. I don't think they're just going kill a revenue stream but they could offer a basic free Mobileme account which gives you.

A me.com email address with 5 aliases.
Sync features
"Find my damn iDevice"
Calendar, Contacts, Bookmark sync
Web page
Gallery
iWork.com

Then roll out Mobileme Pro


Make iDisk more like Drop Box.
Enhance the sync
Online Backup
Cloud Music (Lala style)
iWork.com Pro (adds collaborative editing)
Whatever other cool stuff they can deliver

I think that would be a really good solution!
---
Two Beautiful Girls In New
I've never heard of this company -- are they reputable, does anyone know? I've heard all sorts of stories abut these types of things being spyware or some such, don't want to pollute my Mac with any of that garbage!

You're joking right?!

They are the one of the biggest security product vendors!

I have installed this, no slow down and it doesn't get in the way.

I have it installed as I frequently share files with Windows users and don't want to be a carrier.
---
Beautiful new york cityscape
mrsir2009
Apr 23, 04:33 PM
Wow, how will that look on the 27" iMac *mouth watering*
---
New York City NYC
Windows Live Skydrive is 25 GB for free.
---
New York City, US
ten-oak-druid
Apr 18, 02:49 PM
Samsung will come up with actual numbers sold, not shipped, finally. Apple will see how few it is and drop the suit.
---
Enjoy the view of New York
connorhays
Nov 22, 11:40 PM
the iphone will beat treo out
---
nyc
p0intblank
Sep 11, 11:57 AM
The only things comin out are the Video Rental service, and a size increase for the Nano.

Move along.

I have to disagree. What makes you think Apple is going to go with only a video rental service? Apple is all about wanting their users being able to "own" content, not borrow it. If anything, they'll go the route of Amazon and allow the user to choose to either own or rent it.

And size increase for the iPod nano sounds very likely, but I expect Apple to do something with the 5G iPod also. Whether it's increase storage capacities or a true fullscreen model, anything works for me.
---
city view, New York
That quote from Palm's CEO sounds like the mad ramblings of someone very worried their market share is about to plummet completely... :rolleyes:
---
17 of 170. two women shopping
Alright, i am getting bored of listening to my beard growing, so i'll go ahead:

R1T1: Loras group explores the start room.

with raven's latest explanation of the trap rule, there is no significant difference between explore-move and move-explore, and i decided to be conservative in case the jokesters upstairs put a trap right away at the start.

at level one we are very weak and any encounter with a trap or lowest-level monster means certain death for at least one of us. we need to uplevel asap.

Splain please.
---
Apple is a business whose mission is to sell phones, computers, and software. You as a customer buy those products, but they are designed by Apple. If you have a problem with Apple establishing a standard across its products to ensure quality, then you can just stop using them. That easy, just stop buying Apple products and stop using them, period.

Apple sells me their products at a phenomenal margin but after that I'm the owner. If I want to throw my iPhone into a lake, it's up to me. (Bar the environmental issues). If I want to jailbreak, it's up to me. If I want to apply a theme made by a car manufacturer it's up to me. So please stop using those dogmas. Every time something like this is reported, fanboys start using those wafer thin arguments. We aren't brainwashed drones, are we?
---
IntelliUser
Nov 4, 11:49 AM
Sophos is terrible on Windows

Says who?
---
Let's face it, it's going to be pretty hard to get excited about new computer hardware from Apple going forward, at least until we see something revolutionary in display technology (Apple has some pretty wild patents pending, so this is a possibility). The machines will get faster on a regular schedule now. I think boring and predictable from the perspective of processor power increases is a welcome change in the Mac user world.

Here is what I think would be exciting from Apple:
- A cell phone that doesn't suck. Oh, and include a PDA that can run Blackberry and Palm apps, but has a better core OS and interface. Oh, and make it an iPod when you flip it over.
- Leopard is a complete mystery. They've kept the lid very tight on any news about its features and improvements. I think we will see dramatic speed increases (benefits of the new kernel API introduced in Tiger plus Intel compilers). Please, Apple, beat MS to market with a resolution-independent interface. How about developer tools that make it far easier to migrate Windows apps to the Mac - that would be huge. I mean, the Mac OS is complete; you can make it lot more performant and tweak the interface a bit, but that's about all. Apple needs to focus on developers and developer mindshare like a laser beam. As Monkeyboy Ballmer says (sweating profusely and foaming at the mouth), "DEVELOPERS! DEVELOPERS! DEVELOPERS! DEVELOPERS!"
- iChat AV for Windows. They have the best consumer video conferencing software out there. Get some traction for iChat before Vista comes on the scene and its solution becomes the standard.
- iCash - Intuit has not kept up with the Windows version of Quicken (haven't seen the 2007 version) and it's just a really weak app. How about some money management software that rocks? The home market is huge for Apple and that is one of the most important apps for adult home users.
- .Mac is weak. Sorry, it just is. It seems like there is so much more they could do.
---
Multimedia
Aug 7, 09:17 PM
well I called back and upped the ram to 2 gigs which is what i consider the base really.

I just didnt want to go running around looking for ram to get to work.

Crucial doesnt have anything for the MacPro yet and I was fooled by the strange new words and the "you will have heat problems if you buy other ram from other makers that dont have heat sinks!"

What the??

So I feel for it and bit another 300 offa my wallet.

figure that with this base i can then search at a somewhat leisurely pace to get the other 4 gigs kits that will fit in the remaining slots.

Please someone tell me it was a smart move?

TIAYou can get third party 1GB sticks for about $200 each. No point in wasting slots with more 512 sticks. You can run fine with 1GB out of the box. It will be plenty fast. I would also dumb down the HD to 160 and save another $75 which is what you can buy a 250 for IN ADDITION TO THE 160 you will get - even 400GB/300 SATA for only about $99 - $129.

I recommend base MINUS $75 HD DOWN to 160GB plus maybe ADD Bluetooth for $29 and perhaps ADD a second video card if you have three or four monitors for $150 more and that's IT.

$2603 List Retail or $2393 Educational Plus Tax.

That's less than I paid for this Refurbed G5 Quad - such a deal. ;) BTW, I looked and they haven't lowered the price of the Refurbished SAVE G5 PMs yet. They are now officially OVERPRICED BIG TIME.

RAM and HDs from third parties. Airport can be done later if you don't need it now.

Did everyone notice that they have priced the 2.66 GHz such that it makes no sense to buy 2GHz and 3GHz models? 2GHz is too little less and 3GHz is too much more. Crazy. Apple must have gotten an amazing price on the 2.66GHz Woodcrest.
---
Wirelessly posted (Mozilla/5.0 (iPhone; U; CPU iPhone OS 4_3_2 like Mac OS X; en-gb) AppleWebKit/533.17.9 (KHTML, like Gecko) Version/5.0.2 Mobile/8H7 Safari/6533.18.5)

I think Apple needs to concentrate more on improving iOS rather than adding a faster processor. Tbh I'm pretty fed up of my iPhone 4 as the is just looks boringly simple. Not everybody wants the same old os on every device. I think it's the omnia 7 next for me so I can have a change.

I agree. iOS is #1 reason why I haven't bought iPad yet - Android 3.0 looks so good on tablets that I haven't decided yet wheter to buy iPad or Android tablet. I'm not that interested in new iPhone models either, because iOS has basically looked the same since the first iPhone, and it's beginning to look very old and dated. I know it's simple to use, and for many people that's the biggest reason to choose iOS, but personally I like to try new things.

Agreed. I moved from my good ol' 3Gs to a ZTE-Blade a few months ago and have to say that despite the general black/grey colors that android apps seem to be forced to use with the UI, the 'desktop' of the phone is much more elegant and usable than the iPhone's. I'd really like to see Apple open up the API's a little more and maybe even allow us to completely swap out their homescreen for custom app based ones. It works well on the droids.

We all have our opinions, likes and dislikes. Personally, the things that you three cite are reasons why I have tried four different Android devices, and returned/sold every one of them. I, for one hope that Apple continues to march to the beat of their own drummer, and continues to go after the simpler aesthetic. Every Android device I have owned has seemed like a cheap, kludgy "Window-ized" version of the iPhone. More married to specs than to user experience. Don't get me wrong. I can geek it up with the best of 'em. But my first Mac several years ago was nothing short of a watershed moment in my computing life. It made me realize how tired I was getting of having to spend hours and hours customizing my interface just to make it usable, and tweaking my hardware to keep it running optimally (or some semblance thereof).

When I see links such as the one earlier in this forum, showing the hacks one must put in place just to make the battery on a Thunderbolt last more than half a day I shudder to think of all of the years I spent with (virtual) grease under my fingernails, and how nice it is now to just have devices that help me get through the day without having to constantly tinker under the hood.

Not to mention that the "openness" of Android allowing hardware manufacturers and carriers to conspire against subscribers has let the proverbial fox back in the henhouse.

Sure, I'd like to see IOS continue to evolve and wow us with a few revolutionary changes. But, IMO following the Android model is not the way to go. To each his own, I suppose.
---