Osama bin Laden lost his Saudi
rjohnstone
Apr 18, 03:28 PM
Apple is devoid of morals and innovation? Are you kidding me? Do you have any idea of Apple's philanthropy? Also, Apple INVENTED the whole concept of touch UI for iPhone and iPad - now the rest of the industry is scrambling to catch up by copying the leader. While imitation may be the sincerest form of flattery, the imitators are simply copying for free what took Apple years to develop at a likely cost of several hundred million dollars. And Apple does not have a right to protect its investment?

Apple should just buy Samsung. That will get them a big foot in the consumer electronics sector.
Wrong... Apple didn't invent the concept of the touch UI, they bought most of what they have and own very little rights to it.
---
Bin Laden was on the
Did you even bother to read this link that someone posted for you cav23j? http://openforum.sophos.com/t5/Sophos-Anti-Virus-for-Mac-Home/Slow-down-when-scanning-Work-around-now-available/td-p/295

Was having problems getting sophos to complete a scan without bringing the MBP to a standstill and require a reboot... I read that thread and everything worked as it shouild. It has given me no other problems.
---
osama bin laden family guy. in
Thanks for the tip. How do you feel about the speaker volume on the unit for calls so far? Also, do the navigation instructions come through the car's speakers at all?

I'd still be curious to see how it looks when stuck to the windshield. I've heard some say that it's too hard to see on the windshield.

I'll let you know when I take a call on it. This is really the first day I have had it. I do not have the TomTom kit plugged into my car's stereo so navigation comes through the speaker of the TomTom kit. What I can remember from the user manual (I don't have it with me at the moment), even when the TomTom kit is plugged into your car's stereo via an auxilary cable, calls and navigation instructions will still come from the TomTom kit and not the car stereo. I currently have no way of checking because my car does not have that input in its stereo.

As far as visibility on the windshield...it's going to vary on what type of car you drive and where you place it. I'm assuming you have never had a GPS unit in your car. It takes up just as much space as most other GPS devices.
---
Osama bin Laden speaks at an
Wirelessly posted (Mozilla/5.0 (iPhone; U; CPU iPhone OS 4_3_1 like Mac OS X; en-us) AppleWebKit/533.17.9 (KHTML, like Gecko) Mobile/8G4)

I hope I can upgrade as soon as the iPhone 5 is released. This 3GS is getting old.
---
in laden osama bin laden Bin
ClimbingTheLog
Nov 24, 01:32 AM
They do know whom they're talking about right? I mean they say PC manufacturers yet palm are producing windows mobile pieces of junk. Windows mobile is the biggest piece of shite operating system - it would not be hard to come up with something a lot better (for Apple at least). And the Palm OS is very dear to my heart, but not exactly cutting edge and palm don't even own that anymore.

Palm are washed out, end of story.

To illustrate your point, PalmOne (if that's what the PalmOS Group is called this month...) is doing the aforemnetioned ground-up rewrite of PalmOS now (it should be available to devs soon if they're on schedule) and it's based on Linux. Stable, massively featureful, full PalmOS 5 backward-compatibility, and futureproof.

Yet the hardware arm of Palm has said it might not buy the new sytem from the software arm. I have to imagine this has to do with posturing/playing the good little beoch to Microsoft. We know what happens to companies which partner with Microsoft... that they have proves prima facia that they're unequipped to run a company.
---
in laden family tree. Osama
Unspeaked
Aug 11, 01:41 PM
Man, I tell ya... 2 years+ ago when I wanted a new laptop, that's ALL I ever heard... I think Apple should build a one-off G5 laptop just to appease us crazy people in here, LOL! It would be an awesome tip-of-the-hat to us, don'tcha think? ;)

Yeah, and it would really put all those heat issues MB and MBP owners are complaining about in perspective...
---
in laden family bin laden
I think a Fall release of iOS5 has the ring of truth.
The iPod music event is becoming a bit of a non event as traditional iPod's become less relevant. So instead Apple will introduce iOS5 which will include one big music feature: cloud streaming and storage of your music!

But if you're going to introduce cloud streaming and sync, then the current iPod touch is not a great device because it has no persistent internet connection, so they're going to introduce an iPod Touch with 3G, which (obviously) won't be called the iPod Touch, but will instead be a cheaper, thinner, lighter iPhone! It might even only have 4GB of storage (probably 8GB) as standard, but the cloud services will make that less of an issue.

The iPhone 5 will still be introduced in the summer with iOS4x and will remain the high end iPhone with NFC, 1080p video recording, 4inch Screen, 8mp still camera, A5 chip, 64GB storage option, maybe they'll introduce Facetime over 3G too at that time too... Same basic physical package as the iPhone 4.

Apple needs to make a cheaper iPhone to compete with Android. For too many people now trading up from feature phones to their first smartphone (at least in the UK) the leap from what they're paying now up to an iPhone is too big. Instead they're getting a low end Android device (e.g. HTC wildfire etc). Apple are not stupid, they know they need to get into that part of the market and soon. It seems like the right time frame. And they need a big event (like their traditional fall music event) to do it.
---
osama bin laden family
I think T-Mobile might fit this bill, at least in the US. I remember seeing a story here earlier in the year where T-Mobile said its vision was aligned with Apple (but not necessarily a partnership; abc article here (http://abcnews.go.com/Technology/ZDM/story?id=2537247)).

Interesting reading that abc article and fits with my impression of T-Mobile in the UK too.

I'm definitely not signing up for a new phone yet! :)
---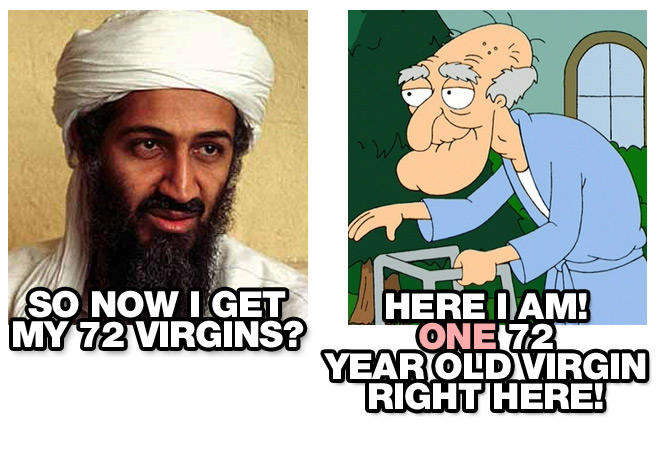 osama bin laden family guy.
Maybe the low end MacBook will keep Yonah and get a price drop, while the higher end MacBook, black and white, will get Merom. That might lead to the most sales, to both those looking for a cheaper MacBook, and those waiting for Merom.I don't think Apple should divide a single line between Core Duo and Core 2 Duo. The average idiot customer won't be able to conprehend why Merom is performs better at the same clock speed as Yonah. Between two entirely separate product lines it's not a problem. Unless you start throwing in products with Yonah/Merom at the same clock speed. Watch those heads spin.
---
osama bin laden family
eric_n_dfw
Aug 7, 01:52 PM
Excellent. Now it's time to wait for the sub-$2000 "Pro" desktop announcement. There's a suspicious gap in their lineup. Mac Pro Cube (http://macprocube.com), perhaps?
I was thinking exactly the same thing. (although the Mac Pro is VERY tempting right now.)
---
Before the terror: Osama Bin
RubbishBBspeed
Apr 23, 04:50 PM
ahhh crap, yet more waiting time for next next next iMac (money back into the savings account then). I really do wish Apple would quit the messing with bit by bit updates and just release a genuine industry changing computer again like it did with the original macpro.
---
dissident Osama bin Laden,
To me, Tablets are worthless. I've had to deal with them at work because some people continue to order them for all their tasks, but they're less mobile than some laptops. They're usually the same thickness or size as a portable, so why carry something that's going to be crippled in some manner?



I think you may be forgetting about Apple and the way they use their products.:) If Apple jumped into the tablet market, they would change everything. If they are going with their original idea, then it wouldn't be a full on tablet computer. And if they release iTV and their 50" TV as the rumors say, then this would be a universal remote. But you say tablets are useless? Not if you are Apple.:p Apple will link this to everything they can as an incentive for greater ease with their products. iTV, their monitors, laptop/home computers, ipods, and their servers for IT guys. This will either be the best, or the worse product Apple will have. If people realize that this hardware could simplify everything, then it will succeed. But if Apple cripples it and people find it useless, then it will fail. It all depends on Apples creative ingenuity. Just think of the possibilities. :D
---
osama bin laden family photos.
iBorg20181
Jul 23, 11:14 PM
If sales are strong they put off updates, if they are slack they roll out new stuff.

This time Intel jumped the gun so Apple may take longer to respond.

You missed my entire point - Apple can't put off updates just because "sales are strong." The "other guys" (Dell, HP, Sony, etc.) upgrade to new technology as soon as they can ramp up production, and Apple won't be, and can't be, "late to the dance" with technology that they all have simultaneous access to. Particularly CPU's. Graphics chips .... well, there they may fudge a bit, especially with 2 brands to select from, but not processor upgrades.

There's no way we'll wait until "November/December," unless Intel fails to deliver Merom, as predicted. If any laptops have Merom sooner, so will Apple.

:cool:

iBorg
---
osama bin laden family guy.
Full of Win
Apr 5, 01:14 PM
Don't give in Toyota!

Its our devices, and if we want to modify them for our own use, so be it.
---
osama bin laden family.
KnightWRX
Apr 20, 07:10 AM
It might be named iPhone 5 but it will essentially be an iPhone 4S/iPad 2 style update.

And that update is still an iPhone 5 style update. iPhone 4S and iPhone 5 are the same thing. One just refers to a potential marketing name, the other to the generation of the device.

I don't get what is so hard to grasp here. The iPhone 3G was not the iPhone 3 at all, it was the iPhone 2 (and some would argue, the iPhone 1,2).
---
in laden family tree. Osama
On yesterday's MacBreak Weekly they were talking about this. The consensus was that the d/l version will be ultra cheap similar to SL b/c Apple wants people to migrate quickly. And then there will be a retail box that will sell for more for those who either can't or don't want to d/l. There is a patter of this in iLife, iWork, Aperture, etc., where the d/l version is much less expensive than the retail box.

And I'm fine with that. Bought Aperture when the Mac App Store debuted because of the new price. However, while people will say "partition your drive for OS and Apps and another partition for data so that you can wipe the OS partition for installs, etc." - because I like to do a clean install of the OS when I get it, and typically with a new machine I still reinstall it without all the languages, print drivers, fonts I won't ever need, I don't want to get a new iMac now and then in a couple months install Lion clean after just setting up the new machine. I'll wait. Get the new iMac with Lion. Wipe the OS and reinstall it slimmed down. Then add my Apps and data.
---
osama bin laden family guy.
The latest iPod firmware has references to phone signal strength etc.
Apple purchased a very large data center capable of uplink/downlink communications a few months ago.
http://www.appleinsider.com/article.php?id=1557
Oppenheimer alluded to Apple working on a cell phone in the Q3 conference call.


I'd say the evidence is there for a "type" of cell phone coming soon from Apple.
---
osama bin laden family.
Apple is strict. This request is not unusual for them. Piss them off and you get excluded from having your apps on the worlds coolest gadgets... And no corporate sluts want that to happen.
---
Osama bin Laden
All I can say is Apple better be coming out with a mid-range tower. Upping the baseline of the MacPro to $2500, what is that. Sure it looks like a sweet computer, but what about small businesses or starving artists who cant afford that. Now we're stuck with the all-in-ones.
A small business that can't afford the low end MacPro at $2,124.00 should really take a good look at there business plan (it sounds more like a hobby than a business). A starving artist should invest their money on developing some new skills, so that they're not starving (I guess art just isn't it for them).

These a PRO machines! If you can't afford them, then you should be looking at the iMac, a Mac Mini or shopping on eBay for a used computer.

The price points are perfect.

And for those people still whining about a mini-tower I have a suggestion for you. Try holding your breath until the announcement. That way we won't have to hear from you any more.

I'm just wondering why adding an Airport or a different video card changes the estimate ship time from 3 to 5 business days to 3 to 5 weeks. Does it really take that long to open a box?
---
UmaThurman
Aug 7, 02:56 PM
SO in the Paris expo is where we'll most likely see updated MBP? :confused:
---
Actually you all forget something: Windows 8 (or whatever it will be) is being made for ARM too ... :)
---
BlizzardBomb
Aug 11, 10:27 AM
Quad Xeons in the MacBook Pro, pretty please. After all, it is Apple's professional notebook line.

Hehe, that's the funniest thing I've read this week :p :D

Hopefully we'll see the MBP hit 2.33 GHz and the iMac get the 2.4 GHz Conroe.
---
Multimedia
Aug 3, 12:20 AM
You have said this before and it is TOTALLY WRONG if you are comparing the Merom to Yonah (http://www.anandtech.com/showdoc.aspx?i=2711&p=4). The first slide is directly from Intel's Spring Developer Conference. Consistent battery does not mean 2X.There is this field report on CNET. This is not info from a SLIDE. It is from a real world field test.

Video: Long-lasting Intel Core 2 Duo notebooks (http://news.com.com/1606-2_3-6100051.html?part=rss&tag=6100051&subj=news)

Over 5 hours of battery life with Merom vs. 3 hours with Yonah. 1.67 X or ALMOST Twice.

To New York on Airplane from San Francisco, Yonah PC battery died over Illinois while same size Merom PC battery made it all the way to New York City with power to spare. So I am RIGHT NOT WRONG. You are uninformed. :eek:
---
michaelrjohnson
Aug 2, 11:47 AM
The single most thing that I'm excited for is the Leopard Preview... Nevermind that it's the only thing *confirmed*. ;) After that, anything else is just icing on the cake!:D

(Apparently, I'm easy to please!)
---